FDA BRIEF: Week of March 20, 2017
---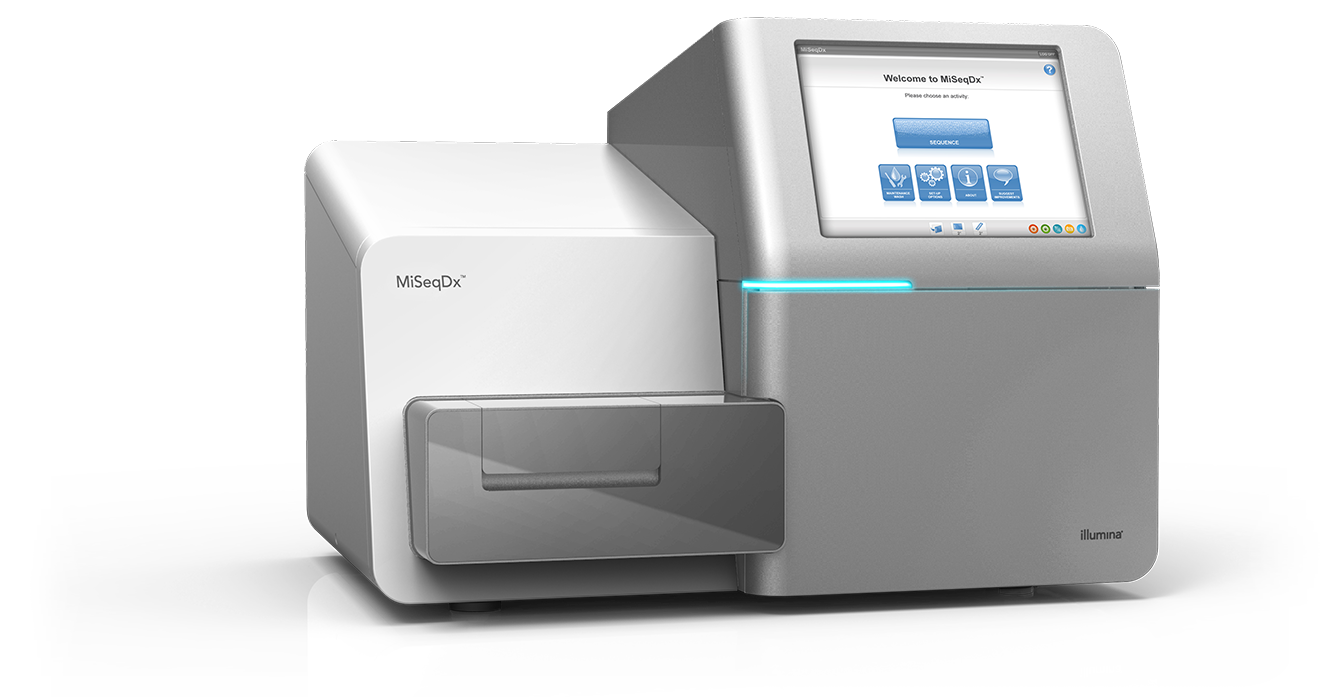 Illumina MiSeqDx Platform
Illumnia Inc, San Diego, CA, USA
INTENDED USE: The MiSeqDx Platform is a sequencing instrument that measures fluorescence signals of labeled nucleotides through the use of instrument specific reagents and flow cells (MiSeqDx Universal Kit 1.0), imaging hardware, and data analysis software. The MiSeqDx Platform is intended for targeted sequencing of human genomic DNA from peripheral whole blood samples. The MiSeqDx Platform is not intended for whole genome or de novo sequencing.
REG PATHWAY: De Novo request
Regulation Number: 21 CFR 862.2265
Regulation Name: High throughput genomic sequence analyzer for clinical use
Regulatory Classification: Class II
Product Code: PFF
GENERIC DEVICE TYPE:  High throughput genomic sequence analyzer for clinical use.
Analytical instrument system intended to generate, measure and sort signals in order to analyze nucleic acid sequences in a clinical sample.
The device may include a signal reader unit; reagent handling, dedicated instrument control, and other hardware components; raw data storage mechanisms; data acquisition software; and software to process detected signals.
RISKS & MITIGATIONS:
Inaccurate test results due to unavailability of necessary components of the instrument : General controls and special control
Inaccurate results due to unknown performance of the instrument system :General controls and special control
Special Controls: Labeling, Performance Characteristics
---
Gene-RADAR® Zika Virus Test
Nanobiosym Diagnostics, Cambridge, MA, USA
INTENDED USE:
Real-time RT-PCR based assay intended for the qualitative detection of RNA from the Zika virus in serum samples from individuals meeting Centers for Disease Control and Prevention (CDC) Zika Virus clinical criteria (i.e., clinical signs and symptoms associated with Zika virus infection) and/or CDC Zika virus epidemiological criteria (i.e., history of residence in or travel to a geographic region with active Zika transmission at the time of travel, or other epidemiological criteria for which Zika virus testing may be indicated).
Testing is limited to CLIA certified laboratories. Results are for the identification of Zika virus RNA. Zika virus RNA is generally detectable in serum during the acute phase of infection (approximately 14 days following onset of symptoms, if present). Positive results are indicative of current infection.
REG PATHWAY: Emergency Use Authorization
Serious or life-threatening disease or condition to humans infected with the virus
Based on totality of scientific evidence,  Gene-RADAR® Zika Virus Test, when used with the specified instrument(s) and in accordance with the Scope of Authorization, may be effective in detecting Zika virus and diagnosing Zika virus infection
There is no adequate, approved, and available alternative to the emergency use of the Gene-RADAR® Zika Virus Test for detecting Zika virus and diagnosing Zika virus infection.
TEST PRINCIPLE:
Real-time PCR based test
Designed to detect RNA from the Zika virus, extracted from patient serum samples utilizing a QIAamp® Viral RNA Mini Kit (Qiagen), and amplified and detected on the Gene-RADAR® Platform.
---
XADAGO (safinamide) tablets
Newron Pharmaceuticals, Italy
INDICATION:  Adjunctive treatment to levodopa/carbidopa in patients with Parkinson's disease (PD) experiencing "off" episodes.
UNMET NEED:
50,000 Americans  diagnosed with Parkinson's disease
Neurological disorder, typically in people>60,  over age 60, occur when dopamine producing brain cells become impaired or die
Impacts daily activities such as eating, writing, and shaving
"Off" episode when patient's medications are not working well, causing an increase in Parkinson's symptoms, such as tremor and difficulty walking
No cure; Need for additional treatment options
REG PATHWAY: NDA
MECHANISM OF ACTION:  Inhibitor of monoamine oxidase B (MAO-B) and catabolism of dopamine; increase dopaminergic activity in brain
EFFICACY:
2 double-blind, placebo-controlled, multi-national, 24-week, PD patients with 'off' time during treatment with carbidopa/levodopa and other PD medications, n=645, 549, XADAGO vs. placebo
Primary endpoint: Change from baseline in total daily "ON" Time without troublesome dyskinesia; based on 18-hour diaries
Secondary endpoint: "OFF" Time during the diary period, Reduction in Uniform Parkinson's Disease Rating Scale (UPDRS) Part III (motor examination)
Significant increased "ON" Time vs. placebo without troublesome dyskinesia
Significant reduction in "OFF" Time and reduction in UPDRS
SAFETY:
Contraindications: Concomitant use with MAO inhibitors, opioids, dextromethorphan,  Severe hepatic impairment (Child-Pugh C: 10-15)
 Most common adverse reactions: Uncontrolled involuntary movement, falls, nausea, and trouble sleeping or falling asleep (insomnia)
---
BAVENCIO (avelumab) injection
EMD Serono, Rockland,MA, USA
INDICATION: Treatment of adults and pediatric patients 12 years and older with metastatic Merkel cell carcinoma (MCC).
UNMET NEED: First FDA-approved product to treat this type of cancer.
REG PATHWAY: BLA, Orphan Drug Status, Breakthrough Therapy Designation, Priority Review
Approved under accelerated approval based on tumor response and duration of response
Continued approval may be contingent upon verification and description of clinical benefit in confirmatory trials.
Multicenter clinical trial confirming the clinical benefit of avelumab in patients with metastatic Merkel cell carcinoma (MCC) who have not received prior systemic therapies for metastatic MCC
MECHANISM OF ACTION: Programmed death ligand-1 (PD-L1) blocking antibody.
EFFICACY:
Single open-label, single-arm, multi-center study, patients with histologically confirmed metastatic MCC, n=88, BAVENCIO every 2 weeks until disease progression or unacceptable toxicity.
Primary Endpoint: Overall response rate (ORR) according to Response Evaluation Criteria in Solid Tumors (RECIST)
Secondary endpoint : Duration of Response (DOR)
SAFETY:
Most common adverse reactions: Fatigue, musculoskeletal pain, diarrhea, nausea, infusion-related reaction, rash, decreased appetite, and peripheral edema
Serious adverse reactions: Acute kidney injury, anemia, abdominal pain, ileus, asthenia, and cellulitis
---