FDA BRIEF: Week of September 19, 2016
EXONDYS 51 (eteplirsen) injection
Sarepta Therapeutics, Cambridge, MA, USA  
INDICATION: Treatment of Duchenne muscular dystrophy (DMD) in patients who have a confirmed mutation of the DMD gene that is amenable to exon 51 skipping.
A clinical benefit of EXONDYS 51 has not been established. Continued approval for this indication may be contingent upon verification of a clinical benefit in confirmatory trials.
UNMET NEED:
Duchenne muscular dystrophy (DMD) is a rare and devastating disease
Occurs in 1 out of every 3,600 male infants worldwide
Progressive muscle deterioration and weakness; most common type of muscular dystrophy
Need for an approved treatment
REG PATHWAY:
Accelerated Approval
However, FDA internal Scientific Dispute on Approval between CDER Review Division and CDER Director
Key disagreement on the amount of dystrophin protein produced in sufficient to be 'reasonably likely' to predict clinical benefit.
FDA Commissioner deferred to CDER Director's assessment of granting accelerated approval
Sponsor required to conduct a clinical trial to  to assess whether Exondys 51 improves motor function of DMD patients with a confirmed mutation of the dystrophin gene amenable to exon 51 skipping.
If the trial fails to verify clinical benefit, the FDA may initiate proceedings to withdraw approval of the drug.
MECHANISM OF ACTION: Accelerated approval based on an increase in dystrophin in skeletal muscle observed in some patients treated with EXONDYS 51.  Eteplirsen  binds to exon 51 of dystrophin pre-mRNA, resulting in exclusion of this exon during mRNA processing in patients with genetic mutations that are amenable to exon 51 skipping. Exon skipping is intended to allow for production of an internally truncated dystrophin protein.
EFFICACY:
3 clinical studies, patients with confirmed mutation of DMD gene amenable to exon 51 skipping, Exondys vs,. placebo, or open label
Primary Endpoint: dystrophin production
Clinical outcome measure: 6-minute walk test (6MWT)
No significant difference in change in 6MWT for EXONDYS 51 vs. placebo (Study 1)
Not possible to estimate dystrophin production in response to EXONDYS 51 (Study 2)
Dystrophin level: Pretreatment level 0.16% ± 0.12%  of level in healthy subject vs. and 0.44% ± 0.43% after 48 weeks of EXONDYS 51 (p < 0.05).
SAFETY: Most common side effect: Balance disorder and vomiting.
---
 AMJEVITA (adalimumab-atto)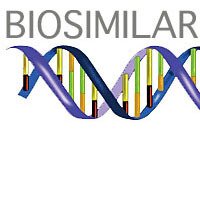 INDICATION: In adult patients with
moderately to severely active rheumatoid arthritis;
active psoriatic arthritis;
active ankylosing spondylitis (an arthritis that affects the spine);
moderately to severely active Crohn's disease;
moderately to severely active ulcerative colitis; and
moderate to severe plaque psoriasis.
Also indicated for moderately to severely active polyarticular juvenile idiopathic arthritis in patients four years of age and older.
REG PATHWAY: Biosimilar to Humira®
EVIDENCE TO DEMONSTRATE BIOSIMILARITY:
Structural and Functional characterization
Animal study data
Human Pharmacokinetic and Pharmacodynamics data
Clinical immunogenicity data
Other clinical safety and effectiveness data
---